A Guide to Slow Cooking
4 min read
We know that often it can feel like there is never enough time in the day and sometimes this means cooking can take a backseat to other things in our lives. But what if we told you there was a way?
Well, take it slow and easy with a slow cooker!

Cut down the time it takes to cook delicious and nutritious meals whilst also reducing the time it takes to do the washing up?

The slow cooker has seen a massive revival in recent years and for good reason. It creates incredible meals using a variety of ingredients, with minimal effort; the cooking time might be longer, but once the prep is done you can let your appliance do all the work while you get everything on your 'To Do' list checked off. Or just give yourself the chance to spend even more quality time with family and friends.

Speaking of appliances, did you know that we have two incredible devices that can slow cook your food to perfection? Grill, slow cook, steam and fry with our Multifunction Cooking Pot or sear your food before you slow cook it with the Sear and Stew Slow Cooker.

Different ways to slow cook with Morphy Richard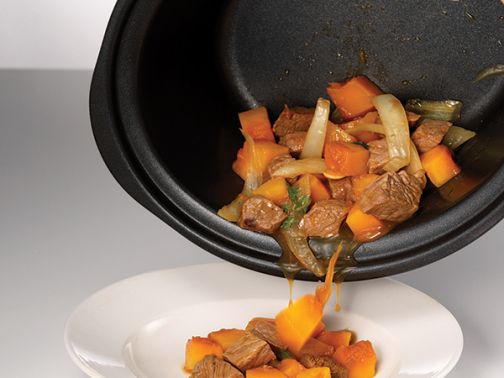 'Sear and Stew' Slow Cooker
This slow cooker conveniently cooks any meal from start to finish in just one pot. Choose from low, medium and high cooking settings to control the cooking and make sure it's ready when you are. Leave the slow cooker stewing while you head to work or turn it on high in the evening for a few hours for a delicious dinner whilst you get all your errands done. All you have to do to have mouth-watering meals ready with minimal fuss is add ingredients and let them stew for between 3 and 12 hours. You could cook incredible dishes such as hearty casseroles, aromatic curries, comforting chillies and even cheesecake with almost no effort. You can even save on the washing up with a removable pot that can be cleaned without having to move the whole slow cooker and as the pot is dishwasher safe, you can simply load it after use for an easy clean. If you want to check on your food whilst its cooking, the transparent lid means you can without letting any heat out and slowing the process down. The larger capacities are also ideal for bigger families, entertaining a large party or if you love to food prep for the week it can serve up to 10 starters or 6 main dishes!
Shop the 3.5L Sear and Stew Slow Cooker and 6.5L Sear and Stew slow Cooker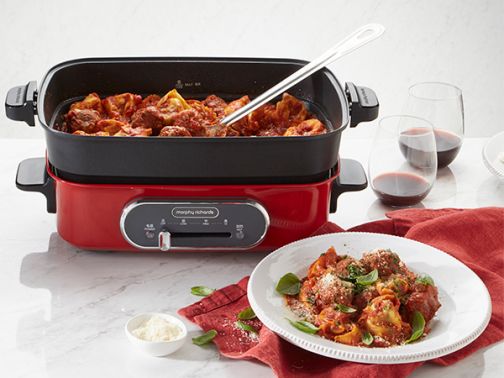 Multifunction Cooking Pot
If you love slow cooking but don't want to limit your repertoire to only creating dishes long and slow, the Multifunction Cooking Pot is for you. Available in round and rectangle, and now with a new 'hotpot' dual deep pan accessory, you can choose the style that best suits you. You can grill your favourite cuts of fish, slow cook your favourite stews, steam all your veggies and fry all your preferred dishes. It really is convenient cooking at your fingertips; Create a variety of delicious meals with just one pot!