Love cooking HotPot? Add our one-pot wonder to your kitchen
4 min read
You might already be familiar with our fabulous Multifunction Cooking Pot (and if you're not then you can read more about it in our blog) and now we're excited to introduce to you our new version in white with the inclusion of a Hot Pot accessory. . If Asian-style cooking is your thing, then our NEW Multifunction Cooking Pot with Dual Hot Pot is for you! Helping you create two separate meals in one deep pot!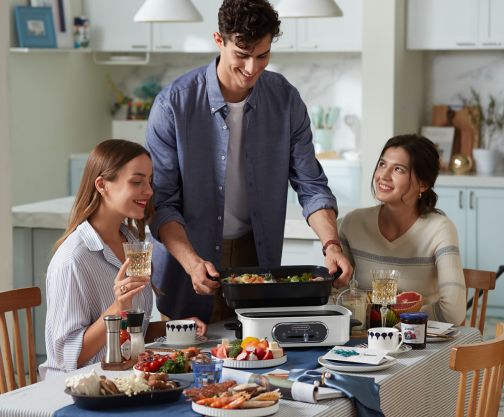 Multifunction Cooker with Dual Hot Pot Accessory
There's nothing better than dipping your chopsticks into a bowl of steaming hot pot. Hot pot is the ultimate pick 'n' mix of ingredients which means it's super versatile; you can create plenty of delicious meals with the ingredients in your fridge. All you need to do is start with your steaming broth then you can dip in whatever meats you want, from tender beef to tofu and shrimp, your favourite veggies such as cabbage and Pak Choy then whatever noodles you like best. You can also add any extras, such as spices, a boiled egg, oyster sauce, cashews and dumplings for a tantalising broth that will impress any foodie. Hot pots aren't just about the meal… It's a whole experience!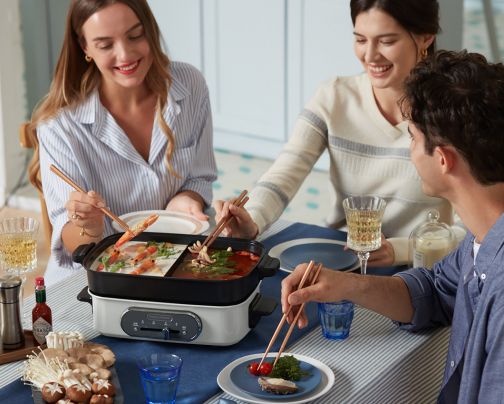 Dual Hot Pot Accessory
The dual hot pot allows you to create two separate meals at the same time. The special design has an accurate temperature control function and 1400W fast heating technology heats up the plate in just a few minutes to make sure you're not waiting around for your masterpiece to be done and you get perfect results every time.
Of course, multifunction isn't just referring to the hot pot. Our incredible versatile cooking pot has plenty of other ways to cook too so that you can grill, slow cook, steam and fry to your heart's desire. Increase your versatility in the kitchen, save time on the washing up (always a benefit) and then just pop it away effortlessly in your cupboards without needing loads of room for multiple pots and pans.
Multifunction Cooker with Grill Plate
There are plenty more benefits to having all this convenience at your fingertips, with non-stick coating on the tray to help reduce the amount of oil you need to cook with to the trays being easily removed to make cleaning them a breeze. We've included a 2-year warranty to give you peace of mind. Plus, the sleek all-white design will look great in any kitchen, no matter what your interior design focus is.
Need inspiration for what to cook? We've put together an extra special Multifunction Cooking Pot with Hot Pot Recipe eBook which includes incredible dishes such as Malaysian Laksa Hotpot with Candied Cashews, Sri Lankin Fish Curry with Tomato Lentils or Vietnamese Meatball Hotpot with Peanuts. Of course, it's not just about the hot pot and there are plenty of other mouthwatering meals for the family to enjoy, such as Gnocchi Carbonara and even Morning Porridge with Berry Compote!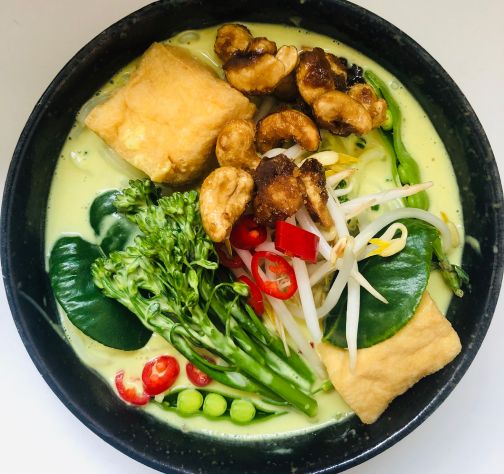 Recipe Inspiration - Malaysian Laksa HotPot
So, whether you're a complete beginner or fancy yourself a bit of a pro in the kitchen, the Multifunction Cooking Pot will create incredible meals, all from the comfort of one pot. What could be better?
The Multifunction Cooking Pot with Hot Pot is available exclusively in Harvey Norman.