It's all about preparation: How to save time and energy in the kitchen
4 min read
We all lead busy lives, so we know that sometimes the thought of preparing a home-cooked meal isn't quite as appetising as throwing a ready meal into the oven or pressing 'order' on your favourite takeaway website. But what if we told you there were ways to have a hearty and healthy meal on the dinner table in less time and taking up less energy than cooking everything from scratch?
We've got three ways to make your life easier without sacrificing mouthwatering home-made dishes:
Rose Gold 'Sear and Stew' Slow Cooker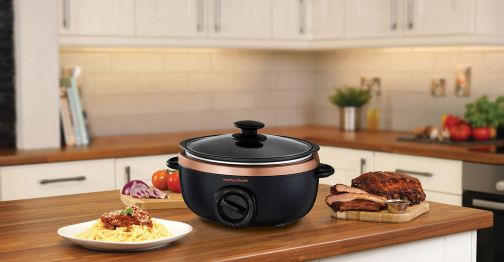 Rose Gold 'Sear and Stew' Slow Cooker
Save on the washing up and have a meal waiting for you at the end of the day with minimal effort? Sign us up. Our Sear and Stew Slow Cooker is the answer for anyone looking to have their meals cooked from start to finish in one go - even whilst you're working or getting on with your day. Choose from low, high or medium heat settings to have the meal ready as soon as you are, from 3 to 12 hours, and create dishes such as curries, stews, pasta and even cake with minimal effort. Not sure how long it needs? The transparent lid means you can check on it without disturbing the cooking process. Dreamy!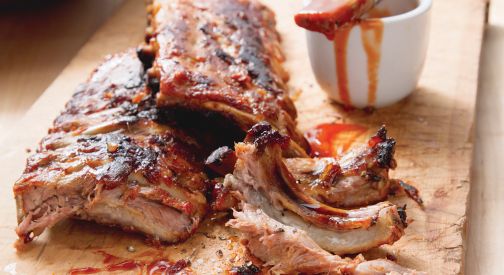 Slow Cooker Ribs
Plus, no one likes doing the washing up, so this handy cooker will not only cook an entire meal in one pot, but it's also dishwasher safe. It has a removable pot which means you can easily clean it without having to move the whole slow cooker, ready for your next delicious meal.
Multifunction Cooking Pot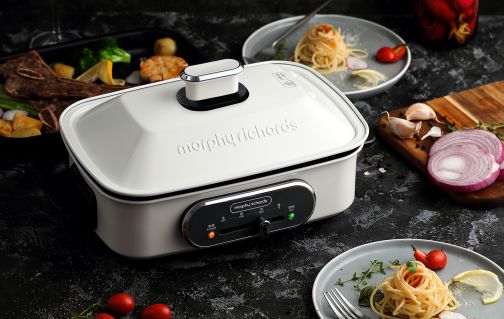 Multifunction Cooking with Hot Pot
When you think of convenience, you think of our Multifunction Cooking Pot. Grill, slow cook, steam, fry and even cook Hot Pot meals with our newer version when you add this to your kitchen repertoire. This one-pot wonder does the job of 5 appliances which is not only great for saving space on your kitchen shelves and for the washing up, but it will also make cooking a variety of dishes even easier. The pans are all non-stick, it heats quickly so you're not waiting around and it comes with a 2-year warranty - not that we think you'll need it.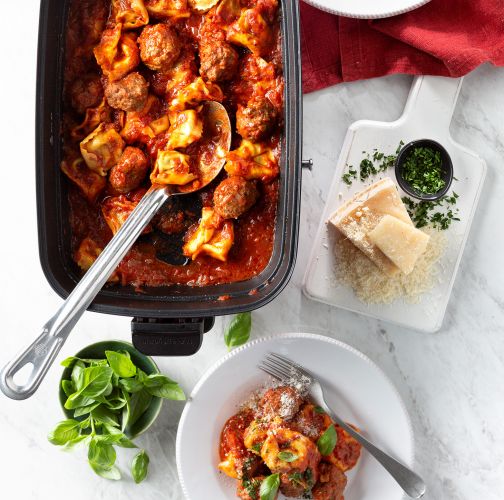 Create a One-Pot Tortellini with Lamb & Parmesan Meatballs
Grill some veggies for a side dish, create Tortellini with Lamb & Parmesan Meatballs with the deep pan dish and steam pork buns - all with one pot!
PREPSTAR Compact Food Processor
Okay, we're calling it: preparing the ingredients isn't exactly the most exciting part of cooking. We have good news though: with our PREPSTAR Food Processor you can prepare healthy and delicious meals in much less time. This lightweight appliance can chop, grate, mix and whisk in minutes so that you have everything ready for your kitchen masterpiece. The compact design means that you can tuck it away with ease when you're not using it and the handy inner storage system means that even the attachments can be kept in easy reach - meaning they're less likely to be lost in the depths of your drawers! It comes with a grating and slicing disk, a beater, an emulsifier and a blade.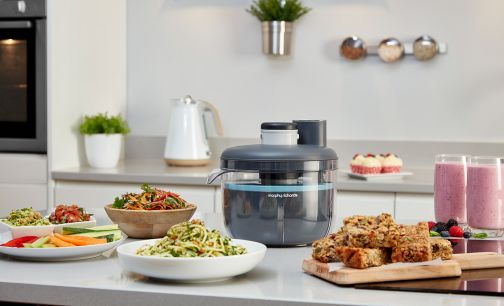 Preparing all your ingredients with the PrepStar
Whip up some mayo, chop some zucchini, grate carrots and whisk your cake batter all with the PREPSTAR Food Processor. It really is one machine with so many possibilities!