The Multifunction Cooking Pot
4 min read
What if we told you that you could grill, slow cook, steam and fry your way to kitchen greatness with just one appliance?
Wave goodbye to using multiple pans and appliances in the kitchen, save on the washing up and create a wide variety of incredibly delicious dishes with a Morphy Richards Multifunction Cooking Pot.
Whether you're regularly cooking up a storm for the whole family or just prefer to get experimental in the kitchen, it doesn't matter; this pot can do everything. Cook up a creamy risotto, grill your favourite veggies, steam some marinated fish, whip up some fresh porridge, create a vibrant curry and even slow cook a stew... all from the comfort of one pot.
So, what else makes our Multifunction Cooking Pot so great? We're so glad you asked!
Easy to clean
Arguably the best part of cooking is the eating and the worst part is, undoubtedly, the washing up. However, the beauty of one-pot cooking is that you won't have to worry about a sink piled high with pots and pans and the easy-clean inside of the pan means that it won't take blood sweat and tears to get it sparkling again. Each of the three trays (the Grill Pan, Deep Pan and Steam Tray) can be removed with ease, making washing up quick and simple.
Non-stick
Each of the removable trays are created with a non-stick coating to make sure none of the good stuff gets left behind when you're serving up your delicious meals. Plus, a non-stick coating makes washing up even easier. It really is the little things.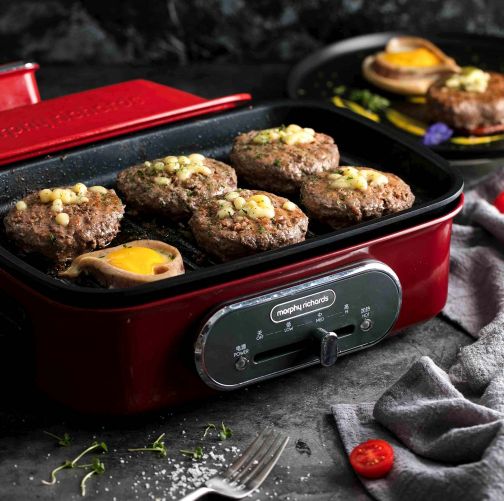 Non Stick Accessories
Quick heating
You won't have to stand around for ages waiting for this to warm up. Crafted with a 1400W high power hotplate, the Multifunction Cooking Pot will warm up in just a few minutes, saving you time in the kitchen so that you have more time for the important things… Like eating whatever you've cooked up with friends and family!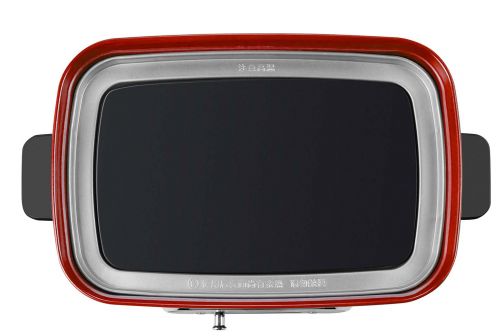 Quick and Consistent Heat
Compact design
Not that we think you'll want to hide it (especially thanks to the gorgeous deep red colour and chic mint green), but when you want a tidy kitchen and tidy mind, this handy pot is designed to be super compact. Whether you'd prefer to slide it into your cupboards or keep it pride of place on your shelf, this appliance will fit into your kitchen effortlessly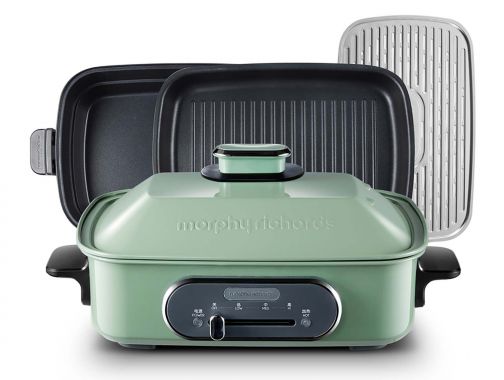 Compact Design with Easy to Clean accessories
2-year guarantee
Peace of mind is important when you're committing to a brand-new kitchen gadget and we have such great confidence that we're offering a 2-year guarantee. So that's one less thing to worry about.
If you're not sure what to cook with your new Morphy Richards Multifunction Cooking Pot, then we've also created a handy Multifunction Cooking Pot Recipe book PDF that's jam-packed full of delicious meal ideas that will get the whole family reaching for seconds. Or thirds. So, whether you prefer comforting dishes like Tortellini with Lamb & Parmesan Meatballs, Asian-inspired meals like Nasi Goreng or something a bit lighter such as a Grilled Prawn & Haloumi Salad, it doesn't matter; there's absolutely something for everyone.